School Profile
St. Therese Classical Academy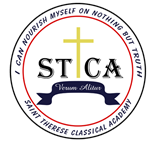 Coed: PreK-12
School Summary
 St. Therese Classical Academy
A Classical Education and Fine Arts Program
Serving two communities, our academy offers academic and enr
ichment classes for students that are classical in content and loyal to the teachings of our Catholic Faith. Students in grades PreK – 12 of our day program will experience two full days of academics and/or one full day of enrichment that is designed to assist parents with a college preparatory education. Through the accredited Kolbe Academy (www.kolbe.org) students in grades 8-12 will have the ability to earn a diploma. The afternoon program for grades 1-12, offers enrichment classes to all that are rich in the fine arts and classical teaching.  ?All classes are taught by certified and qualified teachers.
Ultimately, we at the St. Therese Classical Academy wish to provide a
cost-effective way for all parents to enhance their children's learning experience in a professional educational atmosphere. This will nurture the development of wise, truth-seekers that will make a positive difference in our world.