School Summary
Our mission is to actively seek, educate, and nurture young men and women to become intellectually competent, open to growth, religious, and committed to serving the people of God. In the tradition of St. Ignatius of Loyola, the founder of the Society of Jesus, we are committed to the development of the whole person through a challenging educational experience of academic excellence, along with spiritual and religious formation. We support the role of parents as the primary educators and dedicate ourselves to developing leaders who are conscientious, intelligent, morally courageous, and compassionate in service to others.
Our vision is to reach a wide variety of ethnic, socio-economic, and religious backgrounds throughout the world and to prepare our graduates for the potential of assuming leadership roles in the civic, religious, business, and cultural life of their respective ethnicity. It is our hope that our graduates become leaders of tomorrow, reflecting these fine qualities of intelligence, morality, courage, and compassion, so that they may be of greater service to all mankind, all for the greater glory of God.
We provide a sound traditional curriculum in small classes with extensive individual attention. This curriculum is enriched by individualized advanced teaching based on personal interests and needs. We prepare our students for advanced placement where available, and are pursuing implementation of the IB (International Baccalaureate) Program.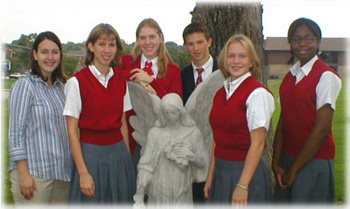 The key to the uniqueness of St. Ignatius is its faculty. Not only do we have a remarkable student- teacher ratio (about 1-to-1 in 2005-06), but each member of the faculty is extraordinarily dedicated and well qualified. Almost all volunteer their time with the school, and many have advanced degrees. They are here only because they want to teach and to "give back" by passing on their knowledge, understanding, and guidance to a new generation.
Admission to St. Ignatius is open to all high-school level students based on academic ability as indicated by school records, testing, and previous/current teacher evaluations. In addition, considerable weight is given to a student interview and to parental involvement in the student's education and development.
Accredited by NAPCIS (National Association of Private Catholic Independent Schools)
Organized as a non-profit institution
Located in a wooded area, border of Arlington/Fort Worth, Texas