School Summary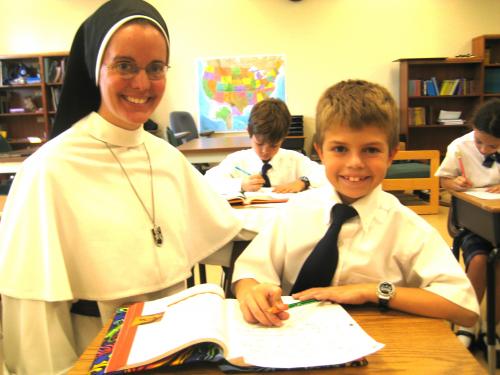 Donahue Catholic, established in 2007, is a co-educational, college-preparatory, classical school in the Catholic tradition. We have a K-12 student body of 268 (80 in 9th -12th).  Our new, more than 50,000 sq foot facility is located on the campus of Ave Maria University in Ave Maria, Florida. We offer a robust sports program including full contact 6 man football, boys and girls basketball, girls volleyball, and boys and girls cross country and track.
Donahue Catholic strives for a culture of excellence where students encounter Christ and learn to see truths in relation to each other so that they illuminate each other, leading to an appreciation of the unity of all truth. Donahue Catholic provides students in grades K-12 an extraordinary college preparatory classical education in the Catholic tradition. Our curriculum exposes the students to Truth, Beauty and Goodness. Our graduates are not only fully prepared for the most demanding colleges, b
ut are also self-motivated and self-correcting young adults inspired by a sense of wonder and a love for all learning.
At Donahue Catholic you will find:
A fully integrated K-12 curriculum which will flow naturally into the core curriculum of AMU, with a consistent focus on search for the Truth and integration of various disciplines and knowledge.
A faculty an
d staff of religious and laity unified in their vision, in their love for education and in their desire to serve our students.
A classical education based on the "Trivium" and the liberal arts which will focus on the great books, and classical and modern languages.
Daily Mass, Eucharistic Adoration, and solid Catholic theology supported by a vibrant, disciplined, and joyful school culture.
A school which is an organic and integral part of the Ave Maria civic, educational, and spiritual community.
SAT average for class of 2013 of 1680/ 3 year average 1735. SAT preparation offered.
K-8 Iowa test scores average in the top 23%.
Bus service to Naples available. 37% of our students live outside Ave Maria.
Some grade levels have waiting lists. Call for space availability.