School Profile
Our Lady of Victory School

Coed: Grades K-12
Traditional Catholic Home Schooling
Accreditation

School Summary
Since 1977, Our Lady of Victory School has been providing curricula and textbooks to parents who school their children at home. Our experience as the oldest provider of Traditional Catholic home study materials, as well as our flexibility in tailoring our program to the individual needs of your child, makes OLVS the right choice for home schooling parents who wish to provide a truly Roman Catholic education to their children.
Our Lady of Victory School has developed a very successful Home Study Program for students all across the world! This full educational course, which takes the place of local school participation in grades kindergarten through twelfth, has attracted many students. We service over 5,000 families from Malaysia to Puerto Rico. The majority of our students, who are affiliated in our full enrollment program or our satellite program, hail from the United States, Canada, and Australia.
Our Lady of Victory School\'s philosophy of education comes directly from the Church, as defined by Pope Pius XI in his encyclical On the Christian Education of Youth: "Education consists essentially in preparing man for what he must be and for what he must do here below, in order to attain the sublime end for which he was created." Accordingly, OLVS believes that the safest road for our Faith to travel is that road which was gloriously traveled by the saints and the holy popes of our Church for over 2000 years. Therefore, you will find we encourage only the Latin Mass, as promulgated by Pope St. Pius V.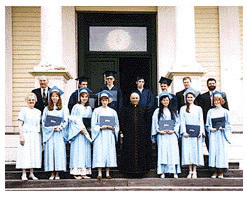 The materials used by Our Lady of Victory School reflect back to Christianity and will always inspire the students to reach for the higher good. In Literature, we emphasis the lives of the saints, the glory of the martyrs, and the conquest of virtue. History endeavors to pass on the actual truths of history, focusing on the spread of Christianity and the evil attempts to thwart it. In Grammar, the student will learn the "old fashioned" rules of grammar, progressing to clearly written essays, well-formed term papers, and presenting logical speeches. Our Science curriculum is based on the beauty of God\'s creation and our attempts to know it. In an effort to help the student glean more from his Catholic heritage, we also offer Latin language electives at many different levels.
We have a solid success rate with our students, many having received full scholarships to prestigious universities, entering above their level at community colleges, and graduating from college with distinction. A number of our students are also serving in various branches of the military while some are pursuing their vocation to the priesthood and the religious life.