School Profile
Lumen Christi Catholic School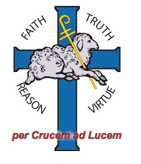 Coed: Grades K-12
Accreditation

School Summary
Lumen Christi Catholic School is established to teach the unity of faith and reason, through the Light that is Christ Jesus, for the formation of young Catholics in truth and virtue.
Lumen Christi Catholic School, faithful to the Magisterium of the Catholic Church, with the permission of the Archbishop of Indianapolis, provides a Roman Catholic elementary and secondary education through the classical tradition.
We are an independent Catholic School, providing a Roman Catholic education. We are located at Holy Rosary Parish in downtown Indianapolis. Lumen Christi offers grades Kindergarten through twelve with small classes and dedicated, faithful faculty. Our school enjoys a teaching affiliation with the Franciscan Sisters of the Immaculate Heart of Mary. Lumen Christi Catholic School\'s Patroness is Our Lady of Guadalupe and our Patron is Saint Thomas Aquinas.