School Profile
St. John Paul II Preparatory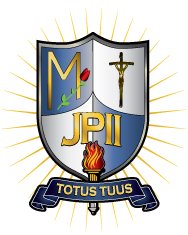 Coed: Grades K-12
School Summary
St. John Paul II Prep is a private catholic school in west St. Louis county for grades K through 12. Our three-day a week schedule is designed for families that desire flexibility and parental involvement, with a focus on catholic faith formation. Our educational approach encourages independent learning while strengthening the family bond and lowering overall cost for private, catholic high school education.
The school is structured after the college-style schools, which started in the mid-90s. There are now over 50 of these schools today. JPII is the first Catholic school in the country utilizing this model.
This model supports our philosophy that parents and the family are the domestic church. Our school is a supportive tool for the parents in offering an authentic Catholic curriculum taught by qualified teachers. Students meet three days per week at school (M, T, TH) and complete course work two days a week at home. Parents continue to play an integral part in students\' formation.
With the continued blessing of Archbishop Carlson, we are fulfilling a role within the Archdiocese and supporting its "Alive in Christ" mission by offering an innovative approach to Catholic education.
The three-day schedule provides flexibility to families and provides additional support to the home school families who desire more academic expertise. JPII also provides an option to Catholic families who would have otherwise chosen public schools due to financial constraints.