School Summary
Founded in 1973, the mission of Holy Angels Academy is to educate and form our youth by the means of Catholic schooling in the classical tradition, so as to prepare them to lead holy and honorable lives for God and country and thus attain the end for which they were created, that is, eternal happiness with God. While maintaining its independence as a private entity, Holy Angels is recognized by the Archdiocese of Louisville as a Catholic school an
d respects the proper jurisdiction of the local bishop in matters relevant to instruction in the doctrines and beliefs of the Catholic Faith.
The Catholic identity of our academy is paramount. Students receive a spiritual life of daily prayer, daily Mass, frequent opportunities for confessions, traditional devotions to Mary and the saints as well as catechetical instruction in complete harmony with the Magisterium of the Church. Each faculty member and Trustee takes an annual Oath of Fidelity.
At Holy Angels, Character Formation finds its roots in the practice of virtues such as honesty, humility, kindness, patience, and perseverance. Respect for authority and good manners are fostered as opposed to modern-day permissiveness. Teachers of sound moral character serve as models for our children to emulate.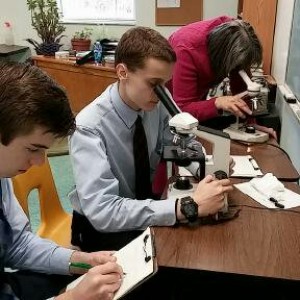 The ability to think and reason well in the pursuit of truth is the result of a Classical Curriculum. Our children receive a firm foundation in the basics of reading, writing, and mathematics. To this end tried and true methods are used as opposed to failed trends in modern education. Latin and grammar aid one in thinking logically and writing and speaking well. Memorization is a necessary exercise for training the mind.
A challenging liberal arts education in preparation for college has seen glowing results with high SAT and ACT scores, National Merit Scholars and numerous college scholarships. High school instruction further develops rhetoric, grammar, and logic, and an appreciation for what is true, good, and beautiful. A study of Western Civilization and our beloved country is at the core of history lessons. The sciences are presented with the premise that God has created an orderly world and that man\'s obligation with experimentation and discovery is to respect the plan of the Creator.