School Profile
Corpus Christi Classical Academy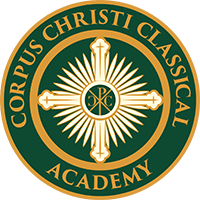 Coed: Grades PreK-8
Accreditation

School Summary
MISSION:  In partnership with parents, and guided by the Gospel and the Magisterium of the Catholic Church, we educate students in the classical Christian tradition. An education of the highest quality is administered by qualified teachers in a loving, faith-filled environment. Its aim is to train students to grow in wisdom and knowledge rooted in the truths of their faith, to better enable them to use their gifts in the service of the Church and the community.
VISION:  To form strong moral leaders through a classical education in the Catholic tradition
PHILOSOPHY:  Recognizing that there is an inseparable link between truth and faith, that both are integral aspects of education, it is the aim of Corpus Christi Classical Academy to impart knowledge and encourage rational thought in pursuit of truth, beauty, and goodness, to equip each child, in accordance with his/her particular gifts and skills, with knowledge and the tools of learning. As Pope Benedict XVI has said, "No child should be denied his or her right to an education in faith, which in turn nurtures the soul of the nation."
FAITH:  The spiritual formation of students will always be our first priority. Students are encouraged to develop a strong sacramental life centered on daily Mass and the Rosary. We assist parents in their vocation and encourage their participation in the educational process. Sacramental instruction, vocations awareness and regular Reconciliation, morning prayer and the Angelus bear witness to our mission. Our goal is to impart to youth instruction in Catholic doctrine and practice; to evoke among them a desire for the act of faith and a desire to execute true freedom in relation to truth; to form the conscience, enriched by faith and to foster a moral vision to live a life of faith.