2012 NAPCIS Spes Nostra Award
Jerry and Dianne Muth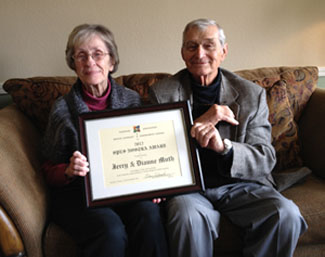 The annual NAPCIS Spes Nostra Award recognizes an individual, school, or organization that exemplifies Hope and Leadership in the preservation of Catholic identity in Catholic education.
The recipients of the 2012 Spes Nostra Award are Jerry & Dianne Muth. Pioneers in the Catholic independent school movement, Jerry & Dianne co-founded Kolbe Academy/ Trinity Prep and Kolbe Academy Home School in Napa, CA. They have selflessly dedicated their lives for over 30 years to salvation of souls and academic excellence.
Proud parents of 10 children, 42 grandchildren and 6 great-grandchildren, they have watched 3 of their children and 11 grandchildren graduate from Kolbe Academy/Trinity Prep where, currently, 18 grandchildren are attending.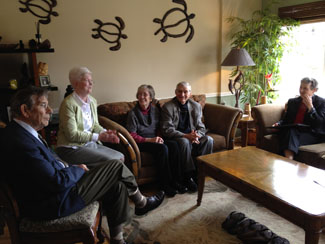 Dianne was a teacher and administrator at Kolbe Academy for more than 23 years and Jerry served as business and financial officer of the school and home school. While most would have retired long ago, Jerry and Dianne's "retirement" is volunteering to travel to most home schooling conferences across the country to represent Kolbe Academy Home School. Dianne is a full-time volunteer at the home school proctoring families and is author of their phonics program for lower grades and guides for the Catholic National Reader. She also volunteers to tutor reading at Kolbe/Trinity. Jerry, besides financial advisor, is the chief gardener, carpenter, handyman, whatever-needs-to-be-done-go-to person at Kolbe/Trinity and Kolbe Academy Home School.
Jerry & Dianne Muth - selfless, tireless and an inspiration to family, friends and all who know them - Congratulations and God bless you!
Watch the YouTube...
---


2640 Third Avenue
Sacramento, CA 95818
TEL (916) 451-4963
email: info@napcis.org
copyright 1995-2013 NAPCIS